Paso Fino Mares for Sale

Geldings for Sale | Stallions for Sale

Angel's Promise - Gorgeous, big bodied 11 year old registered Paso Fino bay mare. She's great on trail-- confident in front, or following behind, has a nice walk and happy to go when asked. She knows how to leg yield and is good with her round pen work. She needs a confident rider and preferably someone with some Paso experience. $1500.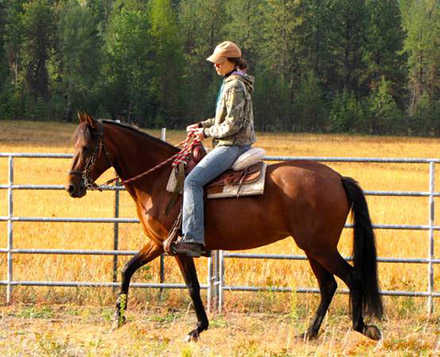 Porcelana de las Rosas - ("Porcelain of the Roses"). Beautiful 2005 Palomino mare by Grand National Champion stallion and Top Ten Sire, Ponderosa Coloso. Porcelana is blessed with a smooth, natural gait, good brio and a sensible, willing disposition. She is very gentle, well trained and easy to ride! Successfully shown (professional and amateur) in Pleasure and Performance gaited classes. She is exceptionally solid and sensible on trail, not easily spooked, handling water, downfalls, brush, steep terrain and wildlife with her characteristic good sense. Corto, largo and canter on trail and returns happily to walk on a loose rein. Impeccable ground manners-loads, hauls, clips, bathes, shoes easily. Her natural talent, training, disposition and great willingness to please her rider makes her a great choice for an "all around" event horse. Suitable for an intermediate rider. SOLD. Click HERE for video. Pedigree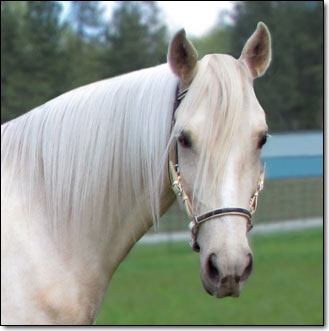 Fairway's Petrolera – Talented, 2002 Grey mare by Petrolero del Juncal. Petrolera is well trained, with a smooth as glass ride! As a youngster she was successfully shown, winning the Amateur Owner Reserve National 3 year old Pleasure fillies class and was first at Spectrum. She has had two wonderful colts for us. As a riding horse, she is fun to ride and enjoyable to own. In recent years, we've retired from showing and have ridden her extensively as a mountain trail horse. She handles obstacles easily and sensibly. Suited to intermediate rider. SOLD. Video Pedigree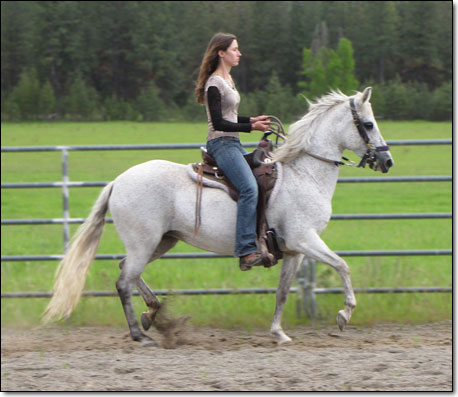 Cabriola Classica is a 6 year old, 14 hands, pretty dappled grey mare that is sensible on trail and easy to ride. She handles all trail obstacles easily. Cabriola was ranch raised from birth, has great ground manners- hauls, clips, bathes, shoes and loads well. She has been ridden by both youth and adult riders. Superbly smooth, naturally gaited and professionally trained. She is by national champion and top ten sire, El Classico de Plebeyo and out of a daughter of Ponderosa Coloso, also a Top Ten Sire. Sold. Thank you, Dennis from Canada. Cabriola has found a great match and loving home with you. We look forward to hearing about your horse camping adventures. Click HERE for video. Pedigree
Culebra – Spectacular, eye catching, well trained, 2005 Pleasure/ Fino mare. Culebra has been blessed with amazing talent, correctness in gait and what we look for in today's show horse. She's naturally gaited, has driving, well engaged hocks, power, quickness and correctness. She's been handled from birth and has benefitted from a solid foundation of professional training, being brought along slowly and quietly with great emphasis at each step to produce a horse that is willing, understanding, listens to their rider, is well controlled and delightful to ride! Culebra's education includes exposure to trails and trail life, where she continues to demonstrate not only her willingness but her sensible nature. She is a great choice for an Amateur Owner rider wishing to pursue a variety of venues. Her value cannot be understated. Culebra is a talented mare herself and her lineage is packed with many generations of national / international champions, Fuera con Curso and Top Ten Sires. Culebra is by Petrolero del Juncal and out of a daughter of Candelario de La Vitrina (Terremoto de Manizales—Fuera con Curso.) Her grand dam, Cana Brava, earned multiple championships with very limited showing. She is a daughter of the great Fino stallion, Chaquiro; a full brother to one of the most revered and legendary mares in Colombia, Cuperacita, who won not only Fuera con Curso in Colombia, but also, the 4 year old Fino fillies work off in Puerto Rico; a mare of great fame and reputation. Culebra is an impeccably well bred, nicely trained horse at a reasonable price. Video available. SOLD New! Click HERE for video.